Fork Monotube Kit Standard
Truely advanced front suspension has made its way to the Harley aftermarket. Progressive Suspension's state of the art Fork Cartridge Kit represents the peak of performance front end handling. The kit features a set of gas charged Monotube damper cartridges and a set of tuned fork springs in stock and lowered versions. Replaces all of the OEM fork internals.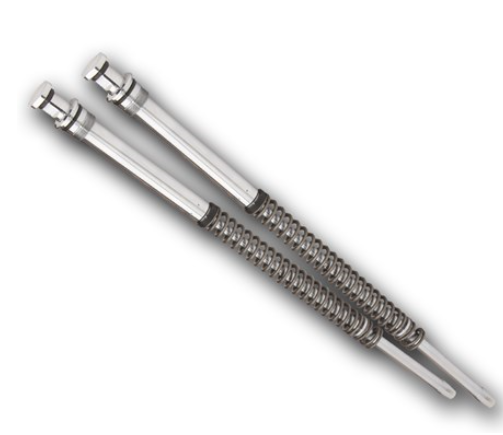 Fork Monotube Kit W/ External Preload Adjust
Upgraded front suspension is finally available for the HD 49mm front ends. Progressive Suspension has gone back to the drawing board and created a state of the art Fork Cartridge Kit designed to outperform everything on the market. Our new asymmetrical design places a preload adjuster over a progressive rate spring in one leg and an aluminum bodied, sealed cartridge damper on the other. The result is superior damping and ride control combined with tunable preload and a new benchmark for highest quality suspension on the 49mm Dyna and Sportster platforms. Can be installed in either configuration, Standard or 1" low available for 2006+ Dyna applications and 2016 XI 48 models.
Available in Black, Gold, or Clear Type Ill Hard-coat Anodize
Legend's touring specific spring rates produce superior ride quality and performance
REVO coils provide improved plush ride quality, control, and resistance to bottoming-out
REVO's extended coil length has larger "sweet spot" without increasing overall shock length
Allows minimal pre-load adjustments by hand when changing between riders' weights or loads
Adjusts by hand, no tools needed
Available in 13" and 14", standard or heavy-duty applications
Easy installation and alignment, provided by spherical bearings on both top and bottom
35mm monotube construction
Deflective disc valve stacks
Balanced/Matched piston and base-valve design specific for these motorcycle applications
Low friction sealing system and PTFE based sliding bearings for improved performance and feel
Seven external knob adjustments allow fine-tuning of rebound
Seven external knob adjustments allow fine-tuning of compression
Provides optimum rebound and compression performance for any given rider weight, personal ride quality preference, or personal riding style
Nitrogen gas bladder design allows ultra-fast response and stiction-free movement
Light to heavy riders can fine-tune ride preference
Riding styles can tune to desired quality or personal preference
Easy installation
Includes 2 mono-tube, dual chambered damper cartridges
Nitrogen chambers with internal floating pistons
Updated spring rate
Machined 303 Stainless threaded pre-load adjuster
Increased pre-load range allows fine tuning for various riding styles and weights
Ride quality is smooth and controlled
Improves stability, cornering and traction
Eliminates front-end dive during braking and maneuvering
Firm feel for sweeping turns
Eliminates bottoming out on large bumps or potholes
Reduces dragging floorboards and pegs
Designed for optimum performance with Legend rear suspensions
Includes Maxima Oil in cartridge and quart bottle